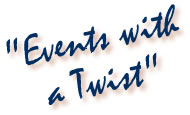 Latest News
UPCOMING PRETZEL CITY SPORTS EVENTS!!
11/27/16 is the "Dirty Bird" 15k Trail Run @ French Creek State Park
12/18/16 is the HumBug Bustle 5k @ Trooper Thorn's Irish Beef House
Now entering our 20th year in business, Pretzel City Sports, Reading, PA provides outstanding, yet surprisingly affordable race timing, promotion, consulting, event design & management services throughout Central & Eastern Pennsylvania, New Jersey, Delaware and Maryland. In addition to shorter road and trail races, PCS also times and assists marathons, ultra marathons, duathlons, triathlons, mud runs, adventure races and others; 485 races in 2015. We are one of the largest race timing and promotion businesses in the East Coast DESPITE having never advertised; all new business is secured by referrals from very satisfied existing customers.
Events we have timed include races from 1 Mile to a triathlon covering 3 states, events lasting 8-10 minutes to a 24 hr ultramarathon, and events with as low as 20 finishers to almost 1500 finishers in a 5k. Often, PCS is able to travel 2-3 hours one way to an event and STILL save the race money versus a timer just down the road from the race. Because of our extensive and varied promotional tools, Pretzel City Sports is also often able to generate an additional 15-25% participation in long standing existing races, JUST because of the additional exposure it can create
Providing services since 1996, our ability to both affordably time an event & promote it as well (unmatched in the run timing business); has made us one of the most requested timing services in the East. We have up to 11 crews available for most weekends, all to provide the entire gamut of services which has made PCS so popular. Yet races are encouraged to contact Pretzel City as soon as you need a timer, since despite the 11 crews, PCS still has weekends where it is totally booked as much as 6-8 months in advance. Services that Pretzel City provides include:
Timing & Finish Line Management
Pre-race Event Design & Consulting
Race Promotion
Course Design & Verification
At most of the events that PCS times, we utilize an electronic time machine, a digital clock and the order of finish to determine award winners and their times. Pretzel City Sports also offers chip timing, both the returnable chip and disposable chip methods. With chip timing, you can now get all the promotional value that PCS brings to runs, duathlons, triathlons, etc while using the type of timing that larger events normally require. Call us today at 610-779-2668 for info on all of our services, or email us at rhornpcs@aol.com. And check out our "race services" subpages for much more detail on what we can do for your event!